In 1946, I opened my first factory in Kakaako, an island slipper sandal that has been loved by many years as a family business. It is still a 25,000 square foot factory in Pearl City, Oahu, more than 100 kinds of men's and women's footwear are hand-cut by skilled craftsmen from cutting, trimming, winding, sewing, gluing and pressing Every one is carefully made.
Island slippers stick to "real thing"
Mr. Carpenter, an island slippers owner who remembers the word "I do not wear a cowboy hat if it is not a cowboy" who had been going cattle with a lasso in California's ranch is still remembering every day at Pearl City's factory , He says that he realizes the importance of being "real" as he says.
"The roots of things and people have a deep relationship with their nature, where we are from, the sandals and business we make is reflecting Hawaii and its lifestyle.We can make it here all over the world That is why we stick to not "real". "
Mr. Matt of Carpenter's son and Mr. Tasha of his wife and others are succeeding in the island slippers in recent years and pioneered new sales routes such as New Zealand, Australia, Dubai, J. Crew, Rix, Salvage Republic, Huckberry , Collaboration with brands and companies such as FLUX magazine also developed.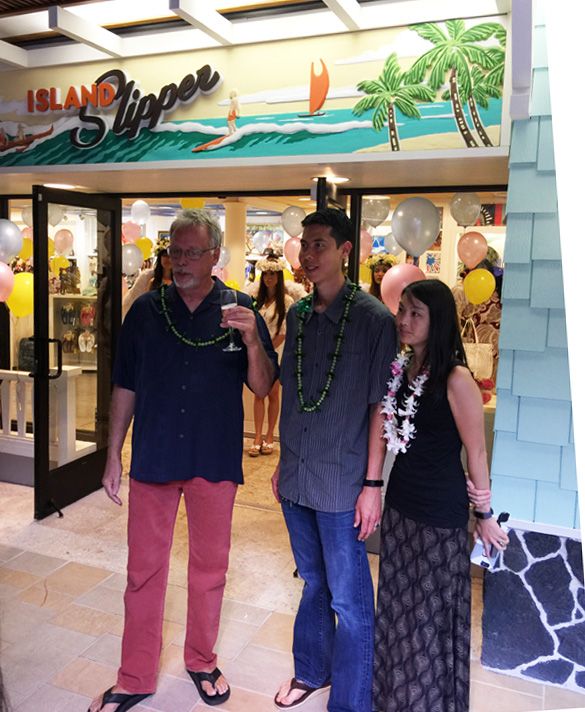 Currently, two stores including Royal Hawaiian Center store are in operation in Hawaii. "At the retail shop, we can introduce a new style pilotly and predict the sales.We always manage the full life cycle of the product from the manufacturing of slippers until reaching the customer's feet, We are making efforts to make sandals and improve quality, "Mr. Tasha said.
Mr. Carpenter said, "There is demand all over the world for" real things. "Sandals of island slippers that are carefully handcrafted with high quality materials, the affection for our" Ohana " It is put in. "
Announcing a new collection commemorating the 70th anniversary of foundation
In the island slippers, in commemoration of the 70th anniversary, a new "Flora + Fauna" collection is announced.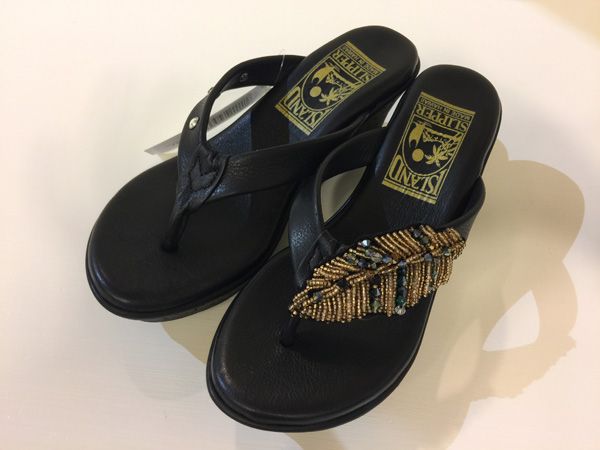 In the same collection, we used slippers for men (cum unisex) that printed flowers and butterfly's original designs on Italian leather, students made of glass beads with flowers, leaves, bees and other motifs and studs made of Swarovski crystals There are ladies' sandals, etc., all elegant and gorgeous impression.
Island Slipper, Phone: (808) 923-2222, Location: Royal Hawaiian Center A, 2nd Floor, Opening Hours: 10: 00 am – 10: 00 pm Open all year round、WEB:www.islandslipper.com
About island slippers
From the founding of the year in 1946, the philosophy of "resort sandal makers done in Hawaii from design to manufacture" is still unchanged, all products are made in Hawaii. Its history is a sandal company that has been factoryized and developed by Mr. Edward Motoka, a son who made a prototype of sandals, Japanese who Migongi Takiaki (Moto Naga / Takizo) who moved to Hawaii.
In 1986, Mr. Motonaga took over to John Carpenter (current president), and the brand of "Island slipper" grew big as a global sandal maker. Hawaii's traditional print fabrics and carefully selected leather materials from the mainland of the United States are used and handmade by skilled skilled craftsmen at their own factory in Pearl City.
Excellent comfort and quality, customer service island · slippers are a long-established sandals brand in Hawaii with many fans around the world who are active in various scenes from beach and resort casual to wedding.